In this post, you're going to learn the 12 best Upwork Alternatives in 2020.
Are you a professional in a specific area? Want to get rid of 8 to 5 daily work routine? Need and the extra income? Yes, there are a series of answers. You might already know sites like Upwork, or you are going to know that there are plenty of avenues to unlock your potentials. It's just a click away.
When we are talking about freelancing, the world largest freelance market place will come in a jiffy to our mind, "UPWORK, originally known as ODesk. In this article, you can get an idea about UPWORK and sites like Upwork.
It is the hub where the businessmen meet the professionals and working together remotely. There are over ten million freelancers have registered with UPWORK. It provides a user-friendly platform and transparency for both the parties. The site contains over 300 diversified skills to work, and it provides both short term and long term basis works for the benefit of both the parties
UPWORK plays a major role, but there are some interesting sites similar to UPWORK, which are leading to the freelancer platform nowadays. This piece of work is going to describe a few.
What is similar to Upwork?
Here's list of the best Upwork alternatives in 2020 right now, competitor sites like Upwork you need to consider using instead.
Fiverr
99design
Freelancer
PeoplePerHour
Guru
Toptal
DesignCrowd
dribbble
truelancer
Seoclerks
Onlineiobs.ph
FlexJobs
01. Fiverr.com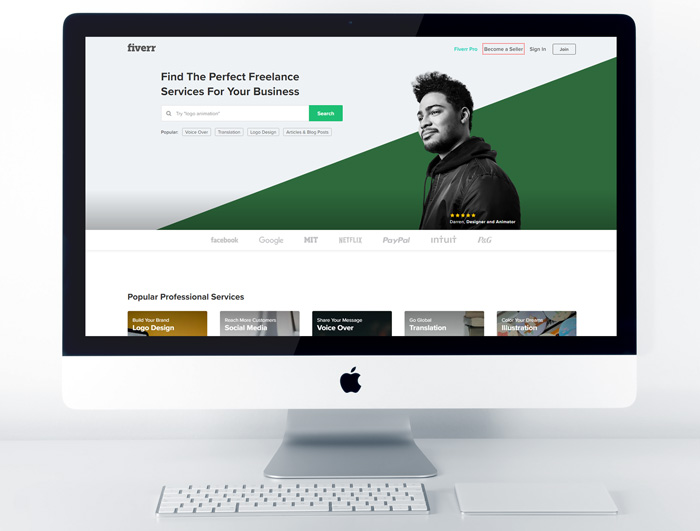 This site is one of the major stumbling blocks for UPWORK which came to play in 2010. It was found as two-paced platforms where people can buy and sell digital services. Its name mirrors the business itself as the original price of gigs or jobs cost only a fiver (US Dollar $5) per given task.
This platform is unique as bidding is not Fiverr's method. Initially, you have to keep a gig depending on your skills, and clients will select your gig based on their requirements. Every freelancer is "pro – verified on their home page and they can provide services for a specific fee or an hourly rate. "gig" meant to be the marketing product inside the platform. Five dollars is quite famous in Fiverr since it is the startup price for the majority of works.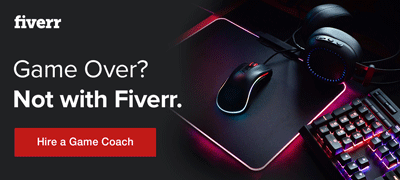 The most famous works are logo designing, digital marketing, transcript, video creation, and social signals. Some people are gaining a sound income from Fiverr accounts which are even less than 20 days old. Some services start from 5 dollars and running up to five figures.
Signing up for Fiverr is free of charge and only registered users can exist inside. It provides a user free platform as you can view the catalogues to get an idea of how others have showcased their services and find out where do your skills fit.
There is a small tip if you are interested in Fiverr, you can always target an extra income by offering some additional work for the client when the order is processing. You should have a pinch of common sense and be tactful when handling clients' requirements.
02. 99design.com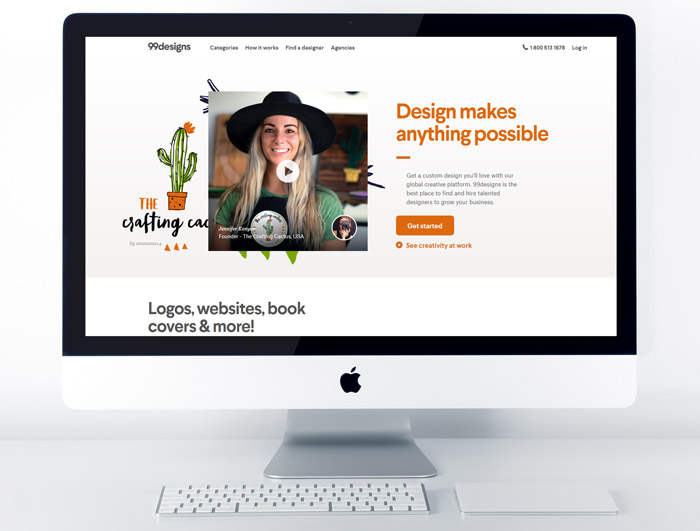 99designs.com is one of the best Upwork alternatives out there.
This freelance website is mainly specialized for logos, website, and book covers. 99designs.com is the home that brings down designers to meet the respective clients in order to fulfill their creative requirements.
There are millions of potential designers have been registered with 99design, where clients can get their custom designs done. There are two options given on the platform; you can register as a designer, or you can choose a talented designer for yourself to work remotely.
It contains unlimited design store where you can own the copyright to your design.
03. Freelancer.com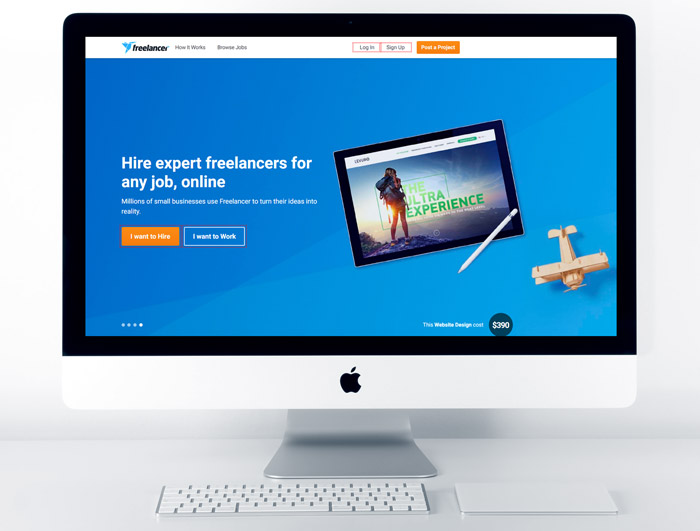 By the true meaning of its name, Freelancer.com is a market place for freelancers. This platform is one of the biggest threat to UPWORK since it is the leading fastest growing platform, among others. Over 17 million users have been engaged with them by providing services with over 9 million projects. It has a free-based business theory where clients can post the work with their suggested rate.
Freelancers can bid their pricing and upload a sample work on their portfolio page for the client's reference if they are fine to take up the work. This paves the way to the client to cross-check the bid with sample work and choose the right skill for the work. It provides both part-time and full-time job works. The key components of the site are time tracking, payment verification, live chat in which other sites don't provide.
At a glance, Freelancer.com and UPWORK platforms look alike. But there are few differentiations such as contests feature, provides a project management feature for a fee. This site contains more variations of skills registered which facilitates the customer with a wide range of selections. For the service provider or supplier, the registration process is a piece of cake. You can do it with a supersonic speed. Each and every freelancer.com user gets a free online account for payments or fund transfers. The payment gateways are transparent and not complicated.
The most important feature is after the job work is closed, both the parties can give their feedback and rate them (Simply 5-star rating system). This helps for future references and builds up their own reputation.
04. PeoplePerHour.com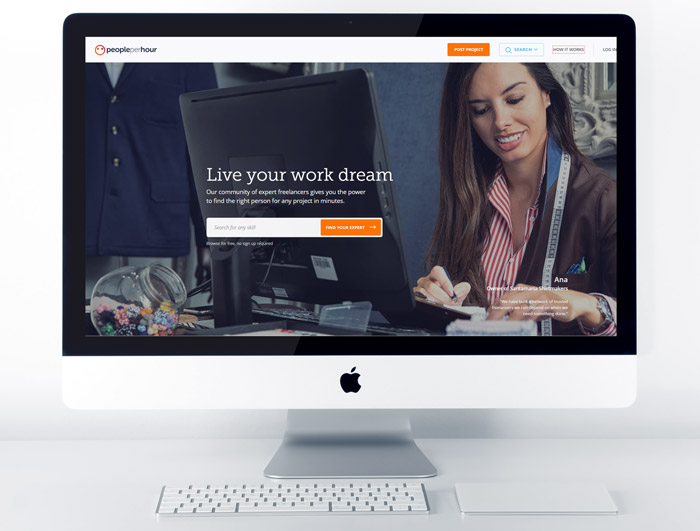 PeoplePerHour is described themselves as the quirky bunch who came into an exercise in 2007. They are mainly focused on giving helping hand for startup and small scale businesses with freelancers. This platform offers hourly projects as wells as large scale projects which need a respective team. It provides the facility for clients to post the job works and receive the freelancers' proposals in order to make the right selection.
The special component they have added is the client can view the freelancers' profiles. There is a specific dashboard which allows clients to trace, manage, and make payments for freelancers. This service holds the funds until the job work is completely approved.
However, PeoplePerHour is a site similar to UPWORK. Since both facilitate with time tracking, two way communication methods, and payment gateways. But there is a unique feature that PeoplePerHour offers, is fixed prices without doing bidding for freelancers.
05. Guru.com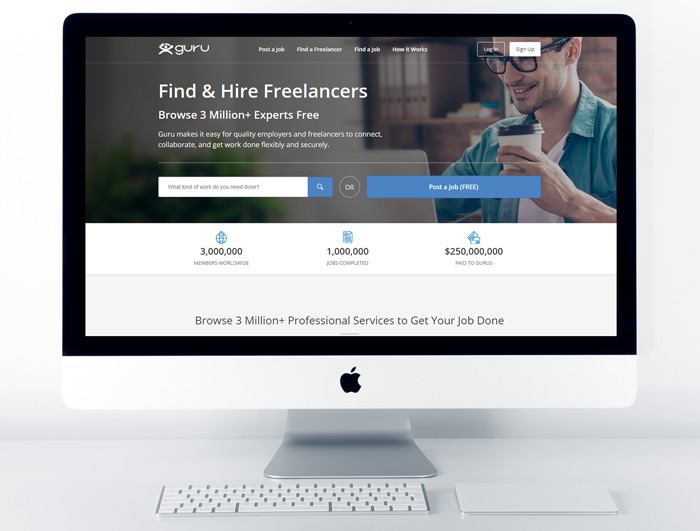 Guru was founded by Inder Guglani, and being a hard start-up to an established market giant in this emergent industry. Guru.com is a user free platform which consists of independent individual potential professionals or groups to work remotely with the employers of the four corners of the world. You can post the job, search for freelancers, and receive proposal straight away from the homepage which offers services in more than eight categories.
It is always free of charge to post a job work on Guru, but have to stick to their template. Sometimes clients have to pay a fee to promote the work on the site. Clients' perspective, this is a money saver for them. This works the same as the other platforms. A freelancer has to review the post and submit their pricing structure according to their wish.
Guru's payment gateways are convenient for freelancers. Their highlighted feature is, if the client wants to appear in the top 30 results, they have to pay a fixed fee and create a featured job. So this paves the way for more exposure and attraction for more proposals. Their hiring process is too simple and time-saving as both parties are agreed, they can sign a deal and start the work.
Guru.com is an alternative for UPWORK, and both the platform has common features such as the facility to view the freelancers' profiles and provide ranks and feedback. Even though both look similar, Guru.com gives an international feeling for both freelancer and the client.
06. Toptal.com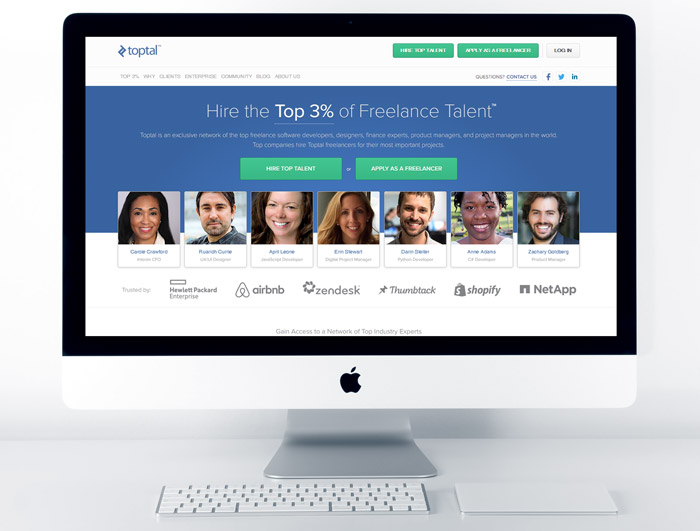 Toptal is one of the expensive market place, where you can select qualified freelance developers, financials, and designers. To get registered on this platform, there is a specific process called "vetting" which includes personality, English proficiency, and hard skills test. Gaining Toptal registration is not a bed of roses, and they have mentioned that only 3% of the candidates will be considered. Which means they approve only the cream out of all.
Here the client won't get a chance to select the freelancer like the sites, instead of that Toptal will choose the freelancer according to meet your requirements. Vice versa freelancers can't apply for the job posts, and they have to have patience until they assigned for particular job work.
Toptal will be highly recommended if you are looking for a professional. It is not the right place if you are looking for a small project with a low budget since there is a compulsory deposit of at least $500 before start finding a freelancer. There are platforms which offer the same service with a lower budget.
07. DesignCrowd alternative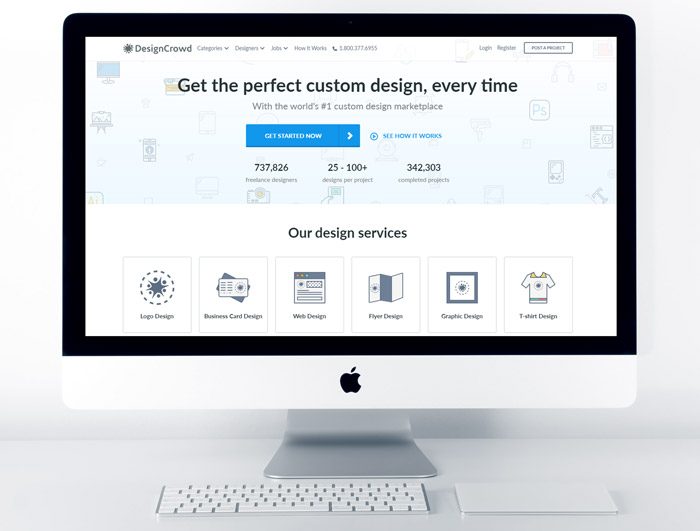 If you are looking for a freelancer who can do custom graphic, logo, web and print design, the tailor-made place is DesignCrowd. There are 725 plus skilled designers have registered with the platform. It is the online leading market place where you can find the potential designers for startups, small scale businesses, entrepreneurs. It provides a smooth flow of communications for both parties to exchange their ideas and make the end result a success.
As well as DesignCrowd more concern about the client's satisfaction with the end result. In case of an issue or a dispute, they have the policy of refunding the client's funds. It provides the best value for the money as this site allows the clients to set up their specific financial budget starting from $99. So he receives the best proposals within that parameter. This platform encourages design outsourcing method that consists with pay as you go payment plan and enterprise pricing vary. Most importantly, they don't have any hidden charges or subscription.
DesignCrowd is a site similar to UPWORK. But they have their unique way of gathering customer feedback called behavior-based "customer satisfaction Algorithm," which gathers negative and positive feedback from all the social media sites. DesignCrowd is one of the most excellent marketing technique to avoid mistakes.
08. Dribbble.com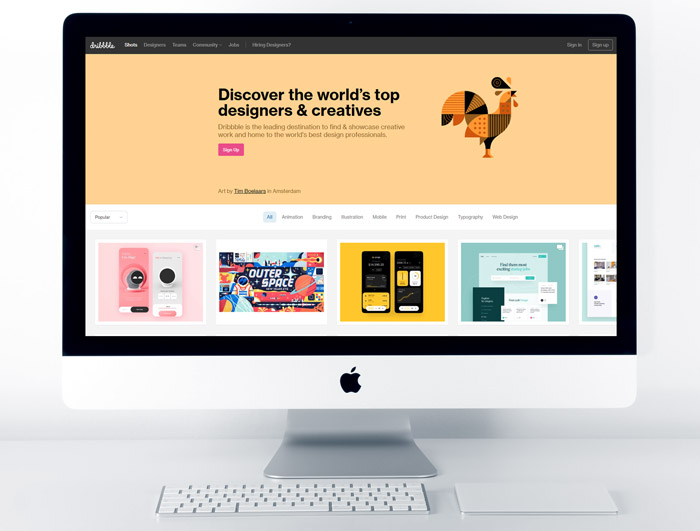 Dribbble is the largest platform for all the creative minds, found in 2009. Self-promotion and networking is their key function. Graphic designs, web designs, illustrations, and brandings are the key services that Dribbble provides, and it has worked with the giant brands such as Apple, Dropbox, Facebook, Google, Flake. Dribbble is fully operating on remotely, has a widespread of around the world with over 40 million client base. Apart from the platform, they are managing Dribbble meetups, blog, Instagram feed, Facebook, and Twitter.
This platform opens for the artists and designers who are registered with them to upload 24 designs and images per month. Once you sign up for the account, you have followed, and like the designers you want, then you can see their work on the newsfeed. When a client wants to hire, they refer to the highest number of followers, location, skills, and reviews of past works.
"Dribbble invite" is the most important thing. You can ask for an existing user to invite, or you can check the site whether someone with extra invites has posted. So you have to find the latest invites before they disappear. Afterword, you have to upload your best masterpiece to become famous. One of the tricks is to become popular is to comment and be a fan of others, interact, and follow them. Newton's 3rd theory works here as you have to admire others in order to gain your appreciations. Then only you are getting paid.
Recently they launched a new concept as team accounts, like earlier you can upload your creative works by individuals or team basis. They have allowed even to convert the existing accounts into group accounts.
09. Truelancer.com
Truelancer.com is a well-known Indian based Upwork alternatives. By its name, their mission is to create a platform with trusted freelancers. Truelancer is an initiative from India to promote freelancing and raise talented individuals in India. This is an alternative for UPWORK, which has the same procedure of meeting the employer with the professional in order to work remotely.
They have a wide range of freelancers, including developers, designers, content writers, visual artists, mobile app developers, and more. The platform is user-friendly and fast. Signing up is free of charge, and you can post even a single job work or making a connection with a freelancer for an ongoing project.
There are three main components available. One is pre-defined gigs. Second is a contest – based crowdsourcing which is related to designing, third is freelancer profiles where you can view their skills, previous work rating.
Most importantly, the client communicates with the freelancer, and it is allowed to have a test work done as well. This site is more similar to UPWORK, where the freelancers have to bid for the particular work.
10. SEOclerks.com
SEO clerk is a platform which provides the most excellent marketplace for the Search Engine Optimization (SEO) services and other small job works. The main purpose is to create a safer environment where a third party can hold the money until the client is satisfied with the final work.
This platform consists of freelancers who are experts in SEO services and other jobs related to the website who can provide the service for a reasonable price for Clients. Apart from this, they are providing outsource jobs such as translations, article writing, guest posts, etc. for the clients, after signing up, they have to select a category before posting the job. Once they have posted, same as UPWORK, freelancers can send their bids. Once both parties have agreed with pricing structure and terms, a client has to pay for SEO clerks. It keeps on hold until the process complete and accepted by the client and takes 20% from all the transactions. Once the job completed, the client can rate the freelancer.
They have a special program called SEO clerks affiliate program, where you can introduce someone to the site and if they buy services. You can 10% of every purchase what they do. You can earn some extra money.
11. OnlineJobs.ph
OnlineJobs.ph is a Filipino based platform which facilitated exclusively to work remotely and do online job opportunities. It is found in 2009 by an entrepreneur to build up a connection between the affordable Filipino workforce in North America and around the world. OnlineJobs.ph has become the most leading platform in the Philippines. There are over 250,000 freelancers have been registered with the site.
This platform is a bit different from other sites because it contains the resumes of the freelancers. So the client can filter via two options; one is resumed upload within last month and strong English writing skills. The site leads to both full time and part-time basis within 40 or 20 hours per week. The client can find wide verities of skills and expertise from OnlineJobs.ph
12. Flex Jobs.com
Flex Jobs initially started in 2007 and provided remote and flexible job opportunities for those who want a difference. Currently, they have 50 listed job categories, and over 5,400 employees have been hired. This platform provides a certain amount of data for free, and if you need to access for the full job bank, you have to be a subscriber. This website is www.upwork.com competitors site and alternatives to Upwork.
This platform provides user-friendly access to find a job according to their desires.
Designcrowd fiverr alternative
Designcrowd & Fiverr are the top alternatives for Upwork. However, you may consider other Freelance Platforms products and services that got even satisfaction ratings and better services.
Which Upwork alternatives work for you?
Now we have made a detail conversation about Upwork alternatives. You might have heard some more freelance websites sites similar to Upwork. We can share our ideas and our findings for other options to Upwork, which will be a help for someone. Feel free to comment below.
Related articles: