This is a story about an elementary class student, whose creativity and perseverance received a lot of recognition. A week before the colors day in college, a teacher told her students about this special day. One student insisted on wearing a University of Tennessee shirt, but he didn't have one. So his teacher encouraged him to wear an orange t-shirt to show his spirit. This boy went one step further and made a label for himself and pinned it to his t-shirt. But some girls made fun of his label at lunch and he came back to the class and cried. The teacher felt sorry for him and planned to get him a UT shirt, by posting this
incident on Facebook
and asking out for help.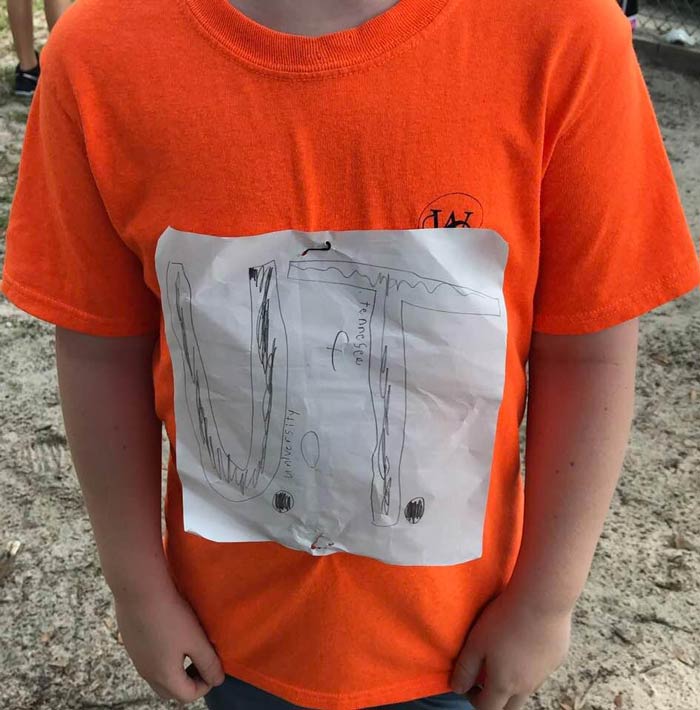 She received a lot of responses, in fact, she was overwhelmed with responses. The most amazing thing that happened was, the university decided to use his handmade design as a label for a t-shirt. The teacher herself looked forward to wearing it soon. 
Also, the student received a care pack from the university, including a jersey, many hats, and bracelets. The boy also got the opportunity to pass University of Tennessee swag (stuff we all get) to his classmates, which made their day! They wore the bracelets, filled their bottles with water, wet their cooling towels to put around their necks and completed their writing quiz with pens. The teacher was very proud and happy to see all his classmates congratulate him.
So proud of VOL nation today. More than 16,000 t-shirts ordered by 3 pm today, crashing the website which is back up. Giant shout-out to @UTVolShop who ignited this story. On every major network today showing what it means to be a VOL and step forward and act! #tennesseeproud pic.twitter.com/J42sY4ah7m

— Donde Plowman (@DondePlowman) September 10, 2019
The teacher and the student and his classmates were really amazed and impressed by the kindness showered upon them by the University of Tennessee and its supporters. It was a lesson of kindness and 'being together', for all of them.