I guess you happened one or more times to have to organize an event, a meeting, a party, a tournament, or anything else. As you well know, once you have determined the place, time and friends and colleagues who need to participate, you need to publicize the event you are organizing. The thing that I think is most useful and effective for advertising this event is the poster posting and the distribution of flyers. Besides, of course, you need to share the events on Facebook among friends.
DesignCap Online Design Tool : www.designcap.com
Create online flyers and posters with DesignCap
However, drawing a flyer requires a graphic tool that has all the right editors to create images and text. This, of course, has a cost, or try to do everything at home. If you're a little creative and practical with drawing tools and text, it doesn't take much. If you've decided to try everything yourself, today, I recommend an online tool that creates flyers and posters for free. In general, when we talk about free online tools, we immediately think of approximate or limited tools. Instead, what I'm recommending to you is a site that will allow you to create professional and attractive graphics, even without having any experience of graphic applications, and in no time.
The site that creates flyers and posters for free that I want to introduce you is called DesignCap. DesignCap is localized into seven languages: English, German, Spanish, Japanese, Portuguese, French, Chinese.
Once you have entered the site, you can register and log in. Then carry out the necessary registration procedures and access your personal profile. I tell you right away that in this section you will find at each access all your previously created works, which are saved. So you will not lose any of your projects, and you can redesign it.
If you've never had experience with this wonderful site to create flyers in just 5 minutes, it's time to create your first project. Then follow the instructions below to start creating your first simple project with DesignCap.
Steps to create a flyer of poster
Step: 01
Register by creating your DesignCap account, choose the purpose of what you want to use this. After entering all the data, you will receive a confirmation email.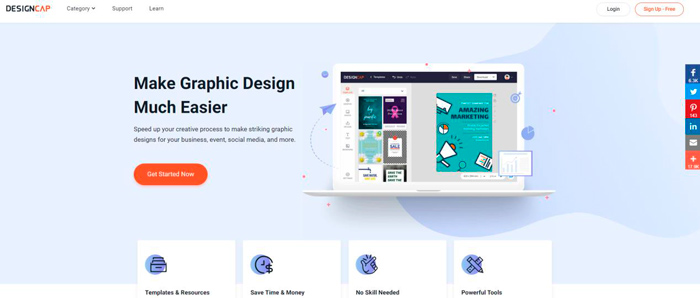 Step: 02
Once you land on this tool homepage, you will see DesignCap display some graphic what you can create. As you are are going to make posters for promoting your event, you can click the button"Get Started Now" to begin your design.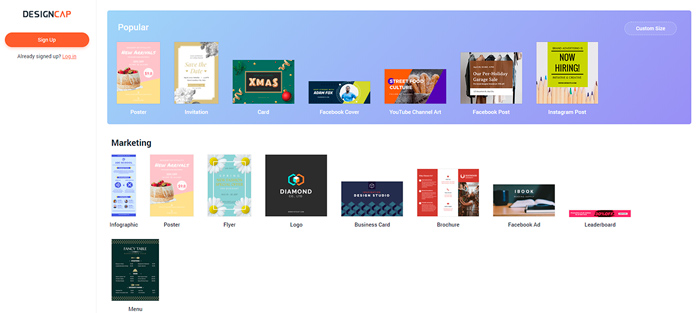 Step: 03
Now let's start creating our project. Some templates will appear from which you can choose what you want to achieve. You'll find lots of funny templates you don't expect, like Facebook and Instagram covers and posts. You can choose from the infographic to the menu, from the Youtube channel art to the Email header and many other projects. Otherwise, you can customize your canvas. Ok, you can choose Poster template to customize it. And you would redirect to an editing page that came out with the canvas with graphics tools.
Step: 04
Then you can customize the template you choose for your needs. To do this you can use the many options and items offered by the service, which I will present to you shortly below:
Step: 05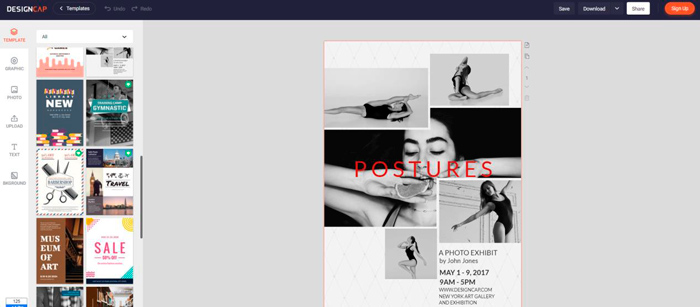 Graphic: It allows you to search for icons, clipart, and shape that can be used in your graphics.
Text: From this tab, you can select the various characters, styles and fonts available and usable for your graphics.
Background: Obviously, by clicking on this tab, you can choose the background of your image, inserting color schemes, solid colors or images.
Uploads: If Canva's features are limited to those mentioned so far, its use would be somewhat limiting. However, thanks to the Uploads function, you will be able to upload your images or your files, so that you can insert them directly by clicking them onto your worksheet.
Photo: In this function, you can search for images to apply your project.
Once the changes have been made, it is time to save the created document. The ways of saving are different. Clicking on Download in the top bar, you can save the flyer in jpg, png format.
Wrapping up
DesignCap is very easy to use. With this tool, you manage your task effortless. Have you ever use this tool?
You can also read related articles Computer Graphics Software list here.